Description
The Reolink Argus 3 Pro is small but smart. Bring this battery-powered camera anywhere with solar power. Convenient person/vehicle detection, colour night vision, spotlight, two-way audio and most importantly peace of mind. Ideal for places where power outlets are not accessible.
Driveway: Be alerted when someone enters your driveway or a car is leaving the garage.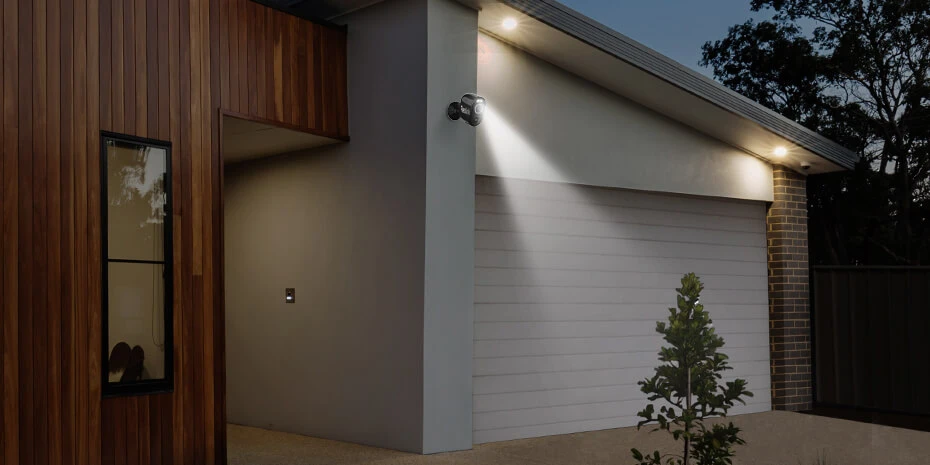 Backyard: Light up the dark corners that are susceptible to breach.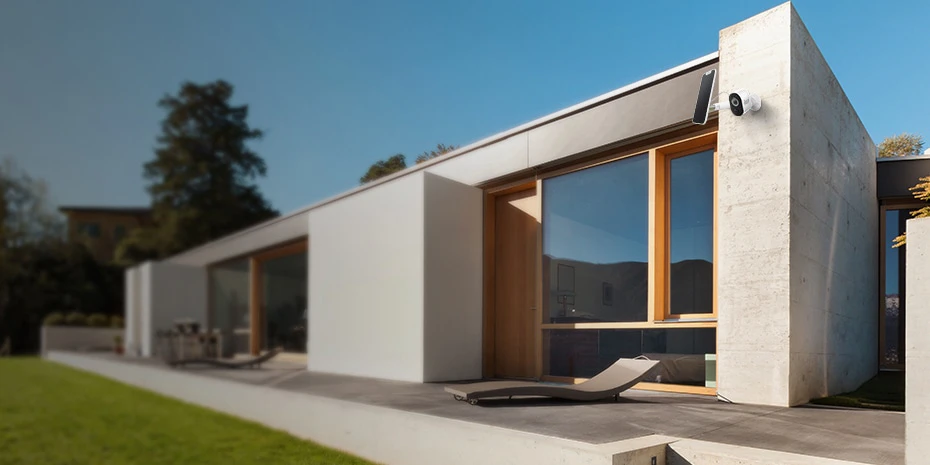 Indoor: Live view what's happening in the room and have a two-way talk with families.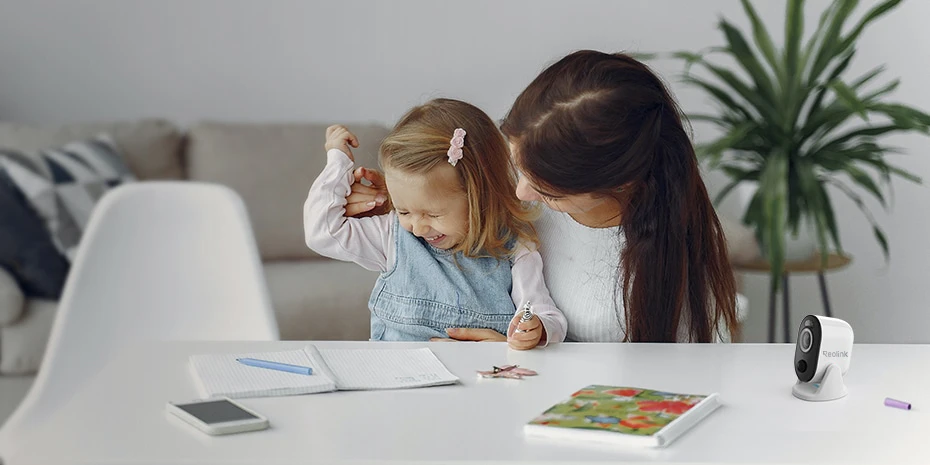 New Smart Detection Tech: With new on-camera technology, the Argus 3 Pro can tell people and vehicles from other objects giving more accurate alerts and greatly reduces false alarms on trivial objects' movements.


Solar-Powered: Connect the camera to a Reolink Solar Panel for nonstop power supply. You'll never need to dismount the camera for recharging or worry about dead batteries. Eco-Friendly design to reduce your bills. 
Super HD Colour Night Vision: With 2K (2560 x 1440) resolution and built-in spotlights, this battery camera keeps recording in full colour day and night, producing sharp, clear footage for more visual details.
Dual-Band WiFi: Endure no more long waits and enjoy a smoother live view with the faster speed and stronger signal brought by the 5GHz (5.8GHz) WiFi. Feel free to switch between the 2.4GHz and 5GHz bands for the best network performance in multiple scenarios. One more choice, lots of conveniences.
Super Fun Time Lapse: Argus 3 Pro with time lapse makes it quicker and easier to capture the dynamic of long-term events like sun rising and flower blooming. Have fun shooting movie-like videos!
Storage Options: You can save your recordings locally to Micro SD card (up to 128GB) and playback later. If you are worried about losing the storage devices, you can choose to store events in Reolink Cloud. Encrypted cloud storage takes care of your data security.

Weatherproof: This waterproof sturdy camera is designed for harsh environments. It works perfectly both inside and outside your home. 
Real-Time Alerts: Get alerted when the camera senses movement. You can configure when you want to turn on notifications - all the time or on a specific schedule. You can customise motion schedule, or sensitivity via the easy-to-use Reolink App. The camera will immediately alert you in multiple ways when motion is detected, so that you can take prompt action. 
Live View & Playback: View live streaming and keep tuned in to see what's happening when you're not there via the free Reolink App. You can tap in to check what's going on with your home or business, respond instantly; search the videos you saved, pinpoint which you want to review, and play it back.
Motion Zones: Customise the zones that are most important for you so you never miss any movements. Erase unimportant areas and only allowing noteworthy matters to trigger recording and alerts.
Voice Control: As easy as saying "Hey Google, show me the back door", you can check what's happening there on your Google Nest Hub or Chromecast-enabled TVs.

What's in the box?
How does Reolink Argus 3 Pro compare?

Shipping: Orders are shipped from within the Republic of Ireland with free delivery on orders over €100 and we will provide you with a link to track your package online. Packages are generally dispatched the next day after receipt of payment. Please allow up to 1-3 working days for delivery but generally you will receive next day if the order is placed before 3pm Monday to Thursday. We now also ship to Northern Ireland for a fee of €9.99 and the rest of the UK for €19.99.
We are not currently shipping to Europe. But please register your interest at info@connectit.ie for the future. See full Shipping Policy here.
Returns: We operate a 14 day change of mind refund policy provided goods are returned unused, in original packaging, in original condition and accompanied by proof of purchase. It is our policy to return goods to the purchaser if we suspect that any product has been used. 
See full returns and faulty policy here.
Prior to returning any goods, please contact our Online Team at info@connectit.ie who will guide you through our returns process.
| | |
| --- | --- |
| Image Sensor | 1/3" CMOS Sensor |
| Video Resolution | 2560 x 1440 (4.0 Megapixels) at 15 frames/sec |
| Video Format | H.264 |
| Field of View | Fixed lens, 122° diagonal |
| Infrared Night Vision | Up to 10 meters (33ft) (LED: 6pcs/14mil/850nm) |
| Colour Night Vision | Spotlight: 2pcs/2W/6500K/230 lumens |
| Digital Zoom | 16x digital zoom |
| Audio | Two-way audio |
| Smart Alarm | Person detection/vehicle detection; PIR detection |
| PIR Detecting Distance | Adjustable, up to 10m (33ft) |
| PIR Detecting Angle | 100° horizontal |
| Audio Alert | Siren (customizable) |
| Recording | Motion triggered recording |
| Other Alerts | Instant email alerts and push notifications |
| Operating Frequency | 2.4GHz/5GHz |
| Wireless Security | WPA-PSK/WPA2-PSK |
| Wireless Standard | IEEE 802.11a/b/g/n |
| Battery | 6000mAh rechargeable battery (Battery life varies based on settings, usage & temperature) |
| Solar | Reolink Solar Panel |
| DC Power Adapter | 5V/2A USB power adapter |
| Local Storage | Supports up to 128GB micro SD card |
| Cloud Storage | Supports Reolink Cloud (available in some countries) |
| Operating Temperature | -10°C to 55°C (14°F to 131°F) |
| Weather Resistance | IP65 weatherproof |
| Weight (battery included) | 330g |
| Dimensions | 121 x 90 x 56 mm |
How can I charge this camera? Is the solar panel a must?
You have two charging options (including solar charging):
Option 1. Have the camera connected to a solar panel for non-stop power supply.
(👆Also recommended as the most friendly charging option for the cam's battery.)
Option 2. Charge the camera (with its non-removable battery) via a 5V 2A USB charger. (Please note that it's ok to charge the cam while it's working, but not for long.)

How long does the battery last?
The camera comes with a rechargeable battery. Normally, the battery lasts for about 1-4 weeks per charge (Actual use varies based on settings, use conditions and environmental factors.) When the battery level goes down to 10%, the camera will send you a low-battery notification.
For non-stop power supply, you can connect the camera to a Reolink Solar Panel.
Does my camera support person/vehicle detection?
Yes, this camera supports person/vehicle detection.
Can I turn off the spotlights?
Yes, you can turn off the spotlights manually.
By default, the camera's spotlights are motion activated: it will turn on automatically when a motion is detected. You can turn them off or adjust the brightness to your liking.
Please note that with the spotlights on you can enjoy clear colour night vision, but if the spotlights are turned off, you will only see black and white images at night.
Does the camera have an SD card?
No, the camera does not come with a micro SD card built in. But it has a micro SD card slot. This camera supports Max. 128GB micro SD cards with FAT32 format and Class 10 or higher read & write speed.
What Does the PIR Sensor Work for?
PIR sensors are more sensitive to the infrared radiations from humans or animals, and thus can dramatically reduce false alarms caused by fluttering moths or flying twigs. Its full name is passive infrared sensor. It measures the infrared (IR) light radiating from objects with a temperature above absolute zero. When the amount of infrared radiation changes, it triggers detection.
Can this camera be used outdoors/indoors?
This camera can be used both indoors and outdoors. It is IP65 certified weatherproof and its operating temperature is from -10°C to 55°C, ideal for outdoor and indoor usage.
Can this camera support time-lapse function?
Yes, the camera can support time-lapse. It can save time-lapse photos and videos to the SD card.
Does the camera support cloud storage?
Yes. You can refer to
Reolink Cloud
to check it available countries.
Note: You can also save video clips into a micro SD card (supports up to 128GB).


Can I talk to someone via the Reolink App? (Two-way audio)
Yes, this security camera features two-way audio, which means you can listen and talk to someone in real time with simple clicks in App.
Can this camera support smart home like Google Assistant?
Yes, currently, this camera can work with Google Assistant.
What happens to recorded videos if the SD card is full?
Overwriting of SD card is enabled by default. When the SD card gets full, the newly-recorded videos will replace the existing videos. Overwriting starts from the videos that are saved earliest. The camera support a maximum of 64GB Sized SD card.